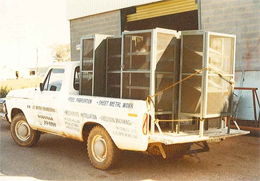 John Butko became apprenticed as a fitter and turner in Melbourne before returning to Wodonga and joining Milos Metrol & Sons. Soon after finishing his apprentice (where he was named Albury-Wodonga's top apprentice in 1972) he became a Leading Hand at the Wodonga meatworks. John Butko worked in the Uncle Ben's Development Engineering section as a Technician for 11 months until identifying an opportunity to work for himself.
Selling his home, John Butko rented a small shed in Kendall Street, Wodonga and invested heavily in machinery including a lathe, guillotine and a set of rollers. His wife Carolyn, and first employee Charlie Myhill provided the support and assistance he needed at this time. John would often work till the early hours of the morning with Carolyn bringing dinner and the kids to the workshop most nights for dinner. "It was about the only time I saw the kids if Carolyn brought them along", John said.
Staff numbers rose to double figures by the time the business outgrew its surrounds and moved into a larger unit at the industrial estate. After a couple of years there, the company moved into the premises it had fabricated in Osburn Street. The moved into this 850sqm factory happened just 4 years after JC Butko Engineering was founded.
In 1988, JC Butko Engineering relocated from it's 850sqm Osburn Street factory to it's current 4200sqm factory.
We presently employ 95 tradespersons and 30 contractors consisting of Boilermakers, Welders, Fitter/Machinists, Sheet metal Workers and apprentices. Our management team comprises Project Managers, Mechanical Engineers, Project Supervisors, Estimators, Drafting personnel, QA and Administration.